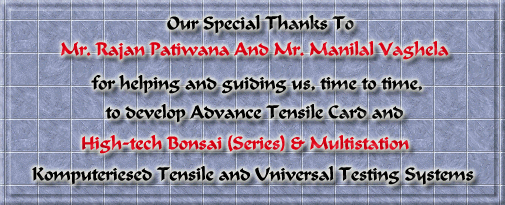 STS Material Testing Systems are Innovative in Design, Affordable in Price, Fully Komputerised ( through High Tech STS TENSILE CARD ), Easy-to-use STARTEST Tensile Software Program.
STS is a manufacturer and suppliers of Table Top & Floor Standing Komputerised ( Ball Screw Driven or Servo Hydraulic Driven or Servo Hydraulic-cum-Ball Screw Driven ) Tensile Testing Systems and Universal Testing Systems in different Frame Structure of Machine ( Like : Single Column and Dual Column Frames, with or without Sidedeck or Tripledeck version ) Single Lever Arm Type CREEP TESTING MACHINES Series: 9018 and Servo Electric CREEP TESTING MACHINES and their accessories.
STS Material Testing Systems comes with wide range of Hydraulic, Pneumatic and Mechanical Grips, Accessories, Fixtures, EXTENSOMETERS, Environmental Chambers and Furnaces.
STS offers STARTEST Tensile Software Program, which is developed to simplify your test set-up, for accurate in data reliability and repeatability in test results and easy to use as per your test standards requirements given in A
STM or DIN or BS or JIS or IS etc.
STS Sidedeck and Tripledeck Tensile and Universal Testing Systems ( Ball Screw Driven and Servo-Hydraulic-cum-Ball Screw Driven ) concept has been conceived designed and developed by PATIWANA GROUP. Which are Unique in the world.
____________________________________________________________________________
Star Testing Systems :
63, Sidhpura Indls. Estate, Masrani Lane, Kurla-W, Mumbai-70. INDIA